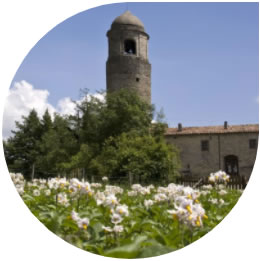 MONTAGNA VERDE
ORGANIC FARM AND VILLAGE ACCOMMODATION
GOOD FOOD, NATURE AND LUNIGIANESE HOSPITALITY
A dip in the well-being and relaxation of uncontaminated lands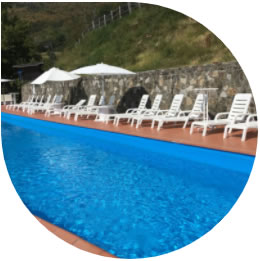 We are in the heart of Lunigiana, in Apella, near Licciana Nardi, in the province of Massa Carrara, north Tuscany. We are 660m above sea level, surrounded by the ancient chestnut woods of the Tuscan-Emilian National Apennine Park, in an area where, at one time, the undisputed masters of the territory were the Malaspina. Here, a special environment and unspoilt nature are combined with hospitality and kindness, values that have a long tradition in Lunigiana.
We have everything you would normally expect from a great tourist accommodation structure. But there is more: a unique setting, which fully surrounds us, an untouched and intact landscape, where history merges with nature in an area which was recognised by UNESCO as a MAB (Man and the Biosphere) Reserve in May 2015.
This is where you will find us, Agriturismo Montagna Verde, and the farm of Mario Maffei and his family, overlooked by a watchtower built in 1000 BC. This was later expanded into a defensive fortress in the thirteenth century and in 1700 turned into a bell-tower and abbey. After years of being abandoned and neglected, thanks to the initial idea and commitment of Mario Maffei, in 1995 the monastery was restored to its former glory.
Today it stands majestically overlooking 600 hectares of nature reserve, where visitors can enjoy excursions on horseback, hiking, and maybe pick seasonal fruits like wild strawberries, blueberries, chestnuts and mushrooms, either alone or with the help of expert guides.
Almost certainly you will get to meet our cows and sheep who live free range in the area. It is a rural idyll, one which will enable guests to experience the spirit of the past and gain insight into the authenticity offered by Montagna Verde.
Afterwards, you can choose to relax by our pool, before a delicious dinner prepared with local products, organic and healthy, grown by ourselves.
Montagna Verde has a restaurnat in the main Tower and accomodations in the restored medieval village of Apella, less than 800 metres from the former monastery as Albergo Diffuso (Diffused Hotel). There is a choice of apartments or rooms, all with private bathrooms, renovated in accordance with principles of sustainable construction.
On request you can visit the workshop where we make honey, the buildings where we dry chestnuts, the Biopark and also our organic farm.
Guests are welcomed by members of the Maffei family, who always aim to sustain the balance between home produced products and the restaurant, ensuring a Zero Km menu of the highest quality.
We offer an ideal place for those who want a peaceful holiday in contact with the natural environment, history and good food. We enjoy an enviable position: a few kilometres away from the "Parco dei Cento Laghi" (Park of the Hundred Lakes), the fabulous coast of the Cinque Terre and the Gulf of Poets, and the white beaches of Versilia. We are also less than an hour's drive from Lucca, Pisa, Genova and Parma.