Inside the "Cà della Sciora", in the old village, expertly carved sandstone, imposing wooden beams and soft light, filtered by the large chestnut wood windows remind us of a magical past, made up of small authentic touches. The warm atmosphere invites people to close the door against the rest of the world, to take a break for themselves and their loved ones.
The common area, the hall or "relaxation room" of the old house, is the ideal place to spend time after dinner in the company of friends or partners. The hearth of the fireplace is always lit in the cold season, and is ideal to perhaps enjoy some chestnut "mondina" prepared by our very own "fire man" Mario, or to listen to one of the local tales that the old people of the village told him when he was a child.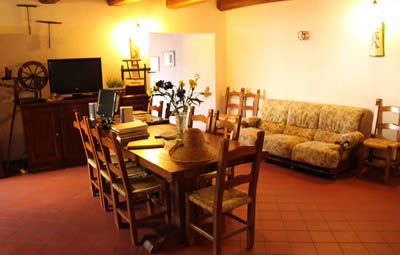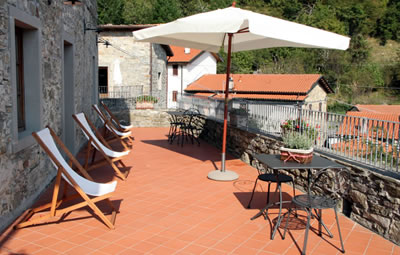 Here you can find publications about the territory to read in peace and quiet, and information about our area – its natural, cultural and culinary traditions. There is also a fast wireless Internet connection to keep in touch with the rest of the world, or just to connect with those people you decide to share you magical holiday with.
From here, you have direct access to the panoramic terrace with views of the Apuan Alps and the rooftops of Apella. On a summer's day it is always pleasant to stay here overlooking the village, to sunbathe and relax as if in a natural "solarium" or, in the cool of an evening sunset, to experience being caressed here by the gentle breeze which always accompanies the end of the day, perhaps beneath a lovely rosy sky.