Our cuisine is strongly linked to the territory and local products, and is underpinned by our great passion for traditional local recipes and the rediscovery of ancient, authentic flavours of the past.
Our farm is certified organic and covers more than 600 hectares including grasslands and forests. It is the main source of the products with which we create our much appreciated dishes. The result is local production of food while maintaining an agricultural and pastoral landscape, at the same time benefiting from the traditional gastronomy of the Apennine mountains and Lunigiana.
The underlying idea, which has always been core to our mission, even before the concept of "zero kilometre food" arose, was to offer this natural, historical and cultural heritage of food, so deeply rooted in the everyday life of local people, in a timely manner. All these features make our cooking one of the main strengths of Montagna Verde.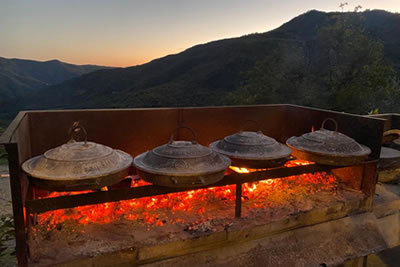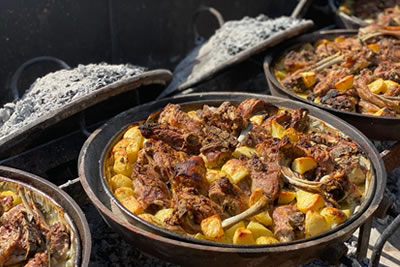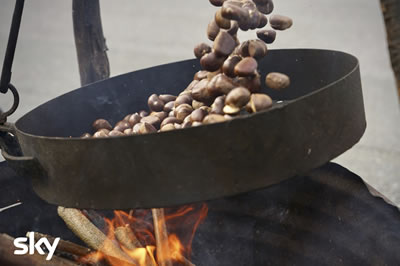 The "La Torre" restaurant (as we named the restaurant of our Agriturismo) is made up of three rooms on two levels inside the old abbey (the Tower). Here we can accommodate up to 100 people and more in the summer, when we open up the terrace (a former threshing floor) to the front of the building, and the beautiful garden overlooking the valley on one side and the green mountain on the other. The rooms were created from the former barns and stables of the monastery, after decades of neglect.
Immediately from the entrees you can start to understand the virtues inherent in the cooking. We start with a wide ranging assortment of good things, which vary each day, and which may then take the form of crostini made with wild mushrooms, ancient "ottofile" maize polenta with a thin veil of "lardo di Colonnato" and a sprinkling of our fragrant organic oregano, traditional pies made from assorted herbs, potato or pumpkin and onions, warm "sgabei" or rosemary focaccia cooked in our wood-fired oven, served with a fine selection of our own salami and top quality real Parma ham, or the traditional "pattone" bread made with chestnut flour and cooked in chestnut leaves, served with our home produced sheep's milk, made into ricotta just down the road in Tavernelle.
The first course pasta is all home made. Not to be missed are our wild boar ravioli, tagliatelle with mushrooms, pappardelle with boar or venison sauce, the crepes with mushrooms, half-moon pasta pockets with asparagus, pappardelle made from chestnut flour, beef ravioli with meat from our farm or home grown pumpkin tortelloni. For something different with a unique flavour try pappardelle with venison or wild duck, thin ribbon pasta with borage, sausage and porcini mushrooms, tortelloni or small chestnut dumplings, gnocchetti, topped with cherry tomatoes and "lardo di Colonnata", accompanied by our very own extra virgin olive oil.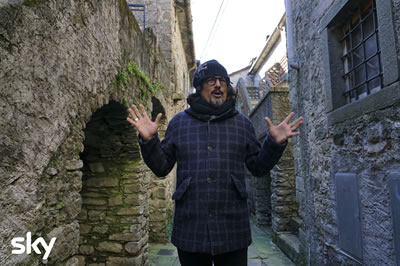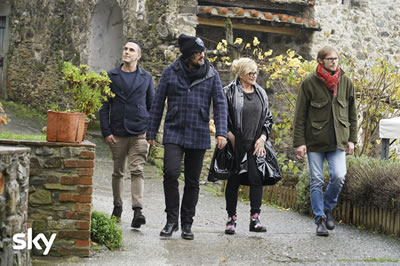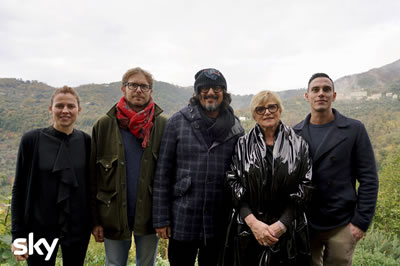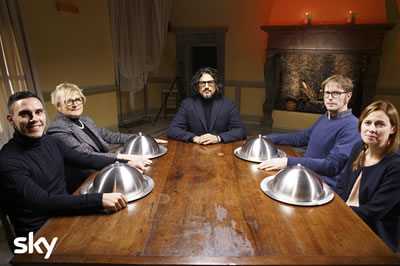 Per valorizzare questa straordinaria abbondanza di prodotti agroalimentari di qualità, a marchio DOP e IGP, dei prodotti agroalimentari tradizionali e dei tanti Presidi Slow Food della zona, frutto di filiere agricole corte capaci di fondere innovazioni tecnologiche e tradizione, quotidianamente costruiamo e offriamo ai nostri ospiti "menù a chilometri zero", ossia ottenuti con prodotti locali, in prevalenza provenienti direttamente dalla nostra azienda agricola, o forniti dai nostri soci, per garantire non solo qualità e freschezza ma anche, sul lungo periodo, il rispetto dell'ambiente e la promozione di una alimentazione e di una cultura eno-gastronomica sostenibili, che avvicini il produttore al consumatore.

Questa è anche la ragione per cui ogni anno partecipiamo al concorso "MENU A KM ZERO" curato dal Parco Nazionale dell'Appennino tosco emiliano, in collaborazione con le federazioni Coldiretti di Massa, Lucca, Reggio Emilia e Parma, che dall'autunno 2008, anno in cui siamo risultati i vincitori, propone una competizione tra decine di ristoranti in cui vengono proposti menu con prodotti, locali e di stagione, provenienti dalle campagne vicine, con l'obiettivo di recuperare e valorizzare il patrimonio agro-alimentare e gastronomico locale.

Our second courses also attract gourmet diners from far and wide, who travel to Montagna Verde to savour what is so hard to find elsewhere: most notably the quality and authenticity of the meat which results from our free range farming methods. This includes Zeri lamb, the Limousin beef and veal produced by our own farm, and "Cinta Senese" pork from pigs which feed in the woods around the farm, and whose meat is so tasty and tender. Diners also come for the game, a key feature on our menu.
Main dishes can include Zeri lamb roasted, fried or cooked in "testi", typical cooking pots of Lunigiana, roast suckling pig served with local apples, wild boar stew with potatoes, venison in sauce or baked, Guinea fowl with pomegranate, chicken cooked in "testi" and maybe best of all, venison chops, or sliced beef, once more prepared in the traditional way with terracotta "testi".
How could you resist a lovely platter of typical cheeses, like local goat or sheep's cheese accompanied by our home produced jam made from pumpkin, quince and figs, and our chestnut and acacia honey?
To finish, sweet focaccia with raisins and pine nuts or apple pie, in its many varieties, or blueberry jam tart made with jam we ourselves produce, maybe ricotta cake, a traditional cake of walnuts, hazelnuts and almonds, or in summer fresh seasonal fruit tart. All desserts are entirely made in-house, thanks to the skill and knowledge of our trusty chef.
Not to be missed, are the final tastes – finishing touches – of delicious house bitters and liqueurs, made of herbs and heritage fruit varieties present in our Biopark such as "basil", "bay", "pomegranate", "nut", "plum", "blueberry", "lemon", "grappa with honey and chestnut" and many others, or the famous "China Clementi" from the centuries-old pharmacy of Fivizzano, all typical but unique digestifs that must be tried before leaving the table.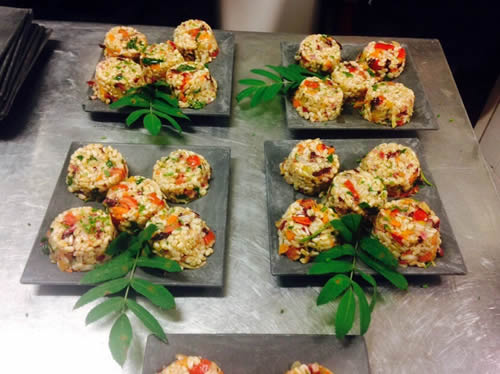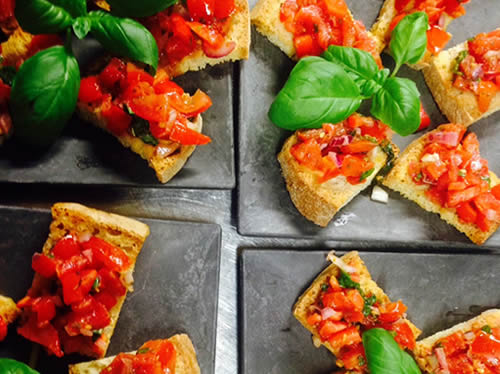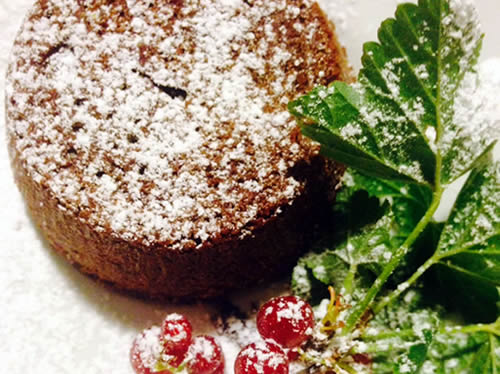 The wines offered at Montagna Verde are all from local growers and the delicate flavours of our cuisine blend well with wholesome and flavourful local wines.
A meal in our restaurant is thus an opportunity to discover the most significant wine production in the area, currently gaining increasing success with awards at both regional and national levels, not least for the skill and ability to reinterpret, in a modern way, local grape varieties such as "vermentino nero", "the durella", "la pollera", "albarola" and "ciliegiolo". Worth noting are the "Candia dei Colli Apuani, Colli di Luni DOC", "Val di Magra IGT" and Toscana IGT". There is also wine production based on international varieties like "Cabernet Sauvignon", "Merlot", "Pinot Noir" and "Syrah". For more information contact the "Strada del Vino dei Colli di Candia e di Lunigiana".
Many wine producers in the area are available for guided tours, wine tastings and short courses, so our clients can actually visit local vineyards during their stay and get to know and understand better the wine production of Lunigiana and the province of Massa Carrara.
On request we also organize wine education courses for our guests, using qualified staff and sommeliers, on site or in nearby Tavernelle, with wine tasting both in Italian and in English (German translation also available by arrangement).We can also arrange a tour of the "Cinque Terre" including visits to two wineries for wine tasting, with a seafood lunch or even arrange cooking classes in typical Tuscan cuisine.
"La tavola conviviale contadina"
Il nostro Menù vincitore edizione 2017-2018
(Foto di Erik Concari Parco Appennino)