For over 2000 years, the marble quarries of Carrara have been the place where nature and the work of man has come together to provide the raw material for architectural and artistic works which adorn public squares, palaces and private buildings throughout the world. The quarries themselves and the techniques employed really are not to be missed, but the local history of the ancient miners' villages such as Colonnata are also well worth seeing.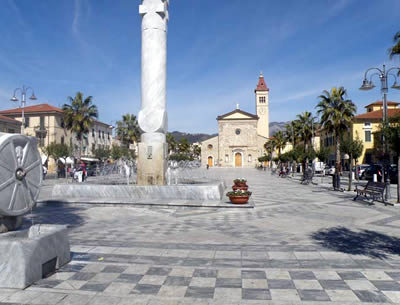 One way to discover this unique area is to take a guided tour with expert guides, some of whom go off-road in suitable 4 × 4 vehicles. This way, you can truly appreciate the hard work and ingenuity, the ancient sweat and modern technology which encompass not only the mining and processing of a stone, but the history of an area and its people.
Guided tours of the marble quarries, sculptors' workshops and cutting machines, not to mention the beautiful old town of Carrara with its Academy of Fine Arts and Cathedral of St Andrew,  permit safe, direct contact with the places, people, tools, machinery and daily life which relate to this ancient tradition.
Don't forget to take a short break in Colonnata to try the "Lardo di Colonnata". This is a traditional food, unique in the world, made of pork fat seasoned and stored in marble basins, and much prized.
From Colonnata you can also climb to 1,200m, while enjoying the breathtaking view, before entering into a spectacular quarry tunnel.
Among the many active quarries, some are open to the public and can be visited by tourists. One such quarry is the tunnel quarry at Fantiscritti. This is a huge amphitheatre dug into the heart of a marble mountain. Another is the "Cava della Piana", the Quarry of the Plain, which, tradition has it, inspired Dante Alighieri in some of his visions of Hell.
For more information: http://www.cavedimarmotours.com/