The farm has fully embraced the "Parco Bike" (Bike Park) project which has been created in order to promote sustainable tourism in the National Apennine Park through the use of electric assisted bicycles.
Since 2014 Montagna Verde has also been a National Park BIKE HOTEL, offering a range of specialized services for your cycling holiday:
A safe room for storing bikes
A special area with all the tools necessary for the maintenance and repair of bicycles
Equipment for washing bikes
Information materials on routes, paths and the park as well as local events
Special food requirements and packed lunch on request
Laundry and drying services for clothing
During the year, particularly in spring and summer, it is possible to join guided tours in the surrounding area, cycling through the beautiful scenery of Lunigiana and the National Apennine Park. These are led by qualified staff from Farfalle in Cammino, an association for sustainable tourism in the area.
In particular, don't forget the event which is held annually on the last weekend of April: the so-called Pedalata dei Castelli (the Castle Ride), which passes through the countryside, villages and castles of Lunigiana, with gastronomic stops which allow participants to stop and appreciate local products, and rides with bikes of the Parco Bike project.
Link: Rent-bike Sigeric
Queste biciclette sono disponibili solo su richiesta e prenotazione con qualche giorni di anticipo grazie alla collaborazione con Sigeric-Servizi per il turismo www.sigeric.it tramite cui è possibile noleggiare le biciclette e farsele consegnare direttamente in albergo al costo di 30 euro/giorno. La struttura possiede inoltre biciclette mountain bikes che sono sempre presenti in azienda, in ogni periodo dell'anno e che sono messe a disposizione degli ospiti della struttura dietro pagamento di una tariffa minima.
Durante l'anno, in particolare, è possibile effettuare anche tour guidati nei dintorni, nel bellissimo scenario della Lunigiana e Parco Appennino, con la presenza delle Guide qualificate di Sigeric – Servizi per il turismo (www.sigeric.it).
Link utili: Noleggio e-bike Sigeric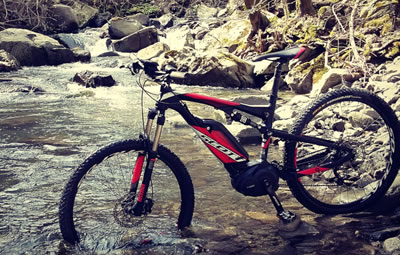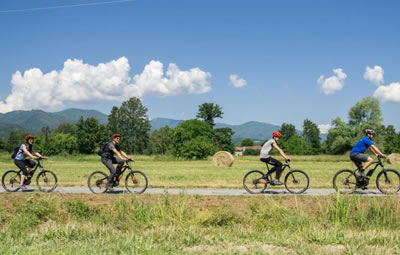 Le bici del Parco Nazionale dell'Appennino Tosco-Emiliano
Le bici del parco nazionale si avvalgono di un motore elettrico di ultima generazione, l'affidabile Bionix Premium Series, di produzione canadese. Bionix propone un kit di dimensioni e peso contenuti, costituito da ruota posteriore, batteria e consolle elettronica.
Questo kit è stato montato su una bicicletta caratterizzata da componenti di alto livello, scelti con meticolosa attenzione ed esperienza, ottenendo una E-bike bella, potente ed affidabile.
Tutte le biciclette sono fornite dei migliori accessori per il cicloturismo, come gli affidabili navigatori GPS Garmin – da affiancare a dettagliati road-book cartacei completi di cartografia, le borse waterproof della Ortlieb, i sicuri caschi della Limar, i pratici porta mappa da applicare al manubrio della Rixen-Kaul e per un vacanza a pedali con tutta la famiglia abbiamo pensato anche ai caschi e ai seggiolini per i più piccini.
CARATTERISTICHE TECNICHE
Motore elettrico: Bionix Premium Series PL250HT SL XL (250Watts)
Velocità massima in pedalata assistita: 25km/hAutonomia: fino a 105km* con batteria 48V/8.8Ah
Display: on/off, retroilluminazione, indicatore velocità/km totali/km parziali; Tasto "modalità rigenerazione batteria"
Batteria: ioni di lithio
Voltaggio Nominale: 250W
Telaio: alluminio triplo spessore, idroformato, colore bianco
Forcella: alluminio rigida da 1-1/8 colore bianco
Gruppo cambio: Shimano Deore
Coperture: Schwalbe Marathon Plus Tour
Manopole: Ergon GP1
Sella: Selle Royal